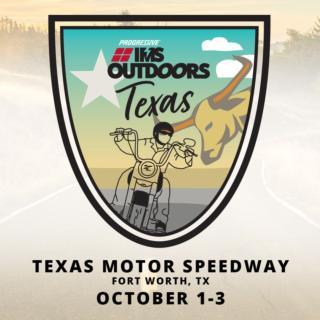 Wednesday September 22, 2021
Powersports enthusiasts and potential riders of all ages and skill levels will converge on Texas Motor Speedway Oct. 1-3 for the Progressive® IMS Outdoors Texas to create a festival-like atmosphere and exciting hands-on experiences unique to No Limits, Texas.
Read More
Recent Headlines
09/20/21

Tickets in a special seat block for the Autotrader EchoPark Automotive 500 are $40, with $10 of each ticket sold donated to Susan G. Komen®. Ticket purchasers in the Komen block will also receive a 50 percent discount ($30) on the No Limits Live Pre-Race Show presented by The Dallas Morning News Track Pass.

09/19/21

The NTT INDYCAR SERIES returns to Texas Motor Speedway for its 26th season of high-speed open-wheel racing, with the XPEL 375 moving from its traditional June date to the historically cooler date of March 20, 2022.

09/15/21

The NASCAR All-Star Race weekend returns to The Great American Speedway for a second season of the best-of-the-best in NASCAR competition at an earlier date on the race schedule. The move to Sun., May 22 from mid-June should make for cooler temperatures for race fans to enjoy new changes to the facility, more entertainment areas, and an exciting infield campground.

09/14/21

Featured events during the Goodguys weekend include the Goodguys Autocross Series (featuring a 16-car "Big Hoss Shootout", Nitro Thunderfest dragster exhibition, burnout competition, Summit Super Shopping Experience and Swap Meet and Cars 4 Sale Corral.
More News